I know this post is long over due ….BUT…. what I can say is now with confidence Ive had more than enough time to test out these dry shampoos and found the best on (in my opinion) for my hair. As I shared with you guys before on Instastories that I can't stand my hair being dirty and that I literally could wash it everyday but I have thick and naturally curly hair so I can't just wash and go therefore I try to wash it every other day and with the help of dry shampoo I was hoping to go longer. As a busy mom of 4 washing my hair less would help speed up my shower times and thus take less time to get ready but the problem is I am one of those people that day after my hair looks gross and I find myself washing my hair every other day. In an effort to cut down on the washing I was in search for a good dry shampoo. My sister and many of my girlfriends wash their hair minimally and swear that dry shampoo is the secret but with so many dry shampoos out there how do you know which one to choose? So naturally I took to the internet which wasn't a whole lot of help because once again so many choices so I put it out to my followers on Instagram recently and asked them if they use dry shampoo and if so which one do you like the best? My followers are amazing and always have lots of feed back which I love so I took all the suggestions and picked the top ones that were suggested the most and I tried them out and here I am reporting back to what I found.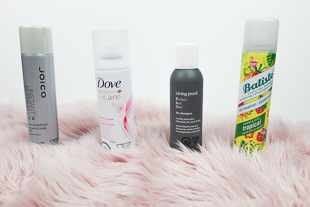 The first one that came with the most suggestions was no surprise Bastista.
Cost: $7
Pros: First of all the packaging is super cute obviously I chose this one for the flamingos (clearly). A little goes a long way I found so a bottle lasts it also has a nice fresh sent. It is easy to find sold at many different retailors so making it super accessible. Bastista is a large brand carrying many different types of dry shampoo so there is one for every hair type I would say.
Cons: It left a white residue and I didn't find my hair looked clean after.
Overall: I give it an 7 out of 10
Second one I chose to try was Dove. There were only a couple who suggested it and since I already use so many Dove products in my house I thought naturally it would be a good one to try.
Cost: $5
Pros: Love the white and pink branding on this particular one. (Yes I do choose things I purchase based on the bottle). Loved the soft scent wasn't over powering but smelled clean. Didn't leave any white residue behind.
Cons: Found I needed to use a lot of the product to get the "greasy look" gone.
Overall: I give it an 8.5 out of 10
Next I tried Joico as I had a few recommendations for this dry shampoo.
Cost: $20
Pros: The sent was not harsh and it didn't leave any white residue.
Cons: The cost is high for the quality. *Disclaimer I didn't pay this much for mine I found it for $12 at my local Homesense * It leaves your hair looking wet at first but does dry after.
Overall: I give it an 5 out of 10
Lastly I tried Living Proof Perfect Hair Dry Shampoo. I already use a few different hair care products from Living Proof and although the line is on a high price point I know from the products I use of theirs already how amazing the quality is so I spent the money on the Dry Shampoo and gave it a try.
Cost: $32
Pros: It actually makes my hair look clean. It doesn't leave white residue. It has a clean smell and you don't need to use a lot of product.
Cons: I don't like the price tag attached to the product but that being said I keep repurchasing it because its that good. The branding isn't pretty but the product is the bomb!
Overall: I give it a 9.5 out of 10